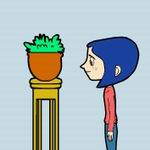 Coraline Saw Game is a very interesting and fascinating game. If you want to forget your daily routine problems and come to a world, where all your wishes come true, then Coraline Saw Game is a perfect option for you.
You will have to solve the puzzles and use logic, search keys and open doors, where magic is already waiting for you. The game is suitable for people of any age and sex. It will be interesting for kids and adults as well. It is easy to control, you need to use the only mouse.
The Main character
The main character is named Coraline. She and her parents just have moved to a new apartment, which is in a suburb place and Coraline cannot wait to explore the environment. As soon she got a permission to go out and explore, Coraline met many new people, which need her help. She gets many tasks and questions, which have to be answered. The most interesting things happen with Coraline when she goes to sleep.
Other characters
Coraline is going to meet many different characters. Most of them are friendly and only ask for help, but some want to influent Coraline's life negatively. Below you can see the list of the characters:
Ms. Janes (Coraline's mother, who does not allow Coraline to go out and explore);
Mr. Janes (Coraline's dad);
Wybie (a boy, who is a new neighbor of Coraline);
Angi Delgado (a girl, from Venezuela, who lost hamster);
Sergey Alexander Bobinsky (a man who worked as acrobat for many years and who lives in the same house);
Postman;
Ms. Spink (a woman, who can predict the future);
Ms. Forcibli.
Once, Coraline is going to find a door to the parallel world. In the parallel world there are same characters but a little better. All characters are as Coraline wished them to be in a real world. The environment in the parallel world is different to the real as well.
How to Play
You can pick up an object from the ground or even wall and put them in any place as well if it can help you to win. You are able to create new objects by combining, for example, two things you picked up during the whole game. Click on free space on the ground to let Town walk there.
How to interact with other characters:
Click on the mouth of the character to start a conversation;
Click on the eye of the character to see a description;
Click on the arm of the character to start an interaction.
If you want to finish the conversation just click escape and if you want the conversation to go faster simply click on any place of the screen.
Statistics
5,298 views
Video Walkthrough Coraline Saw Game
38 Votes, average: 4.42/5