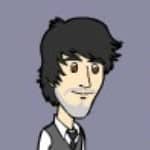 German Saw Game is a 25 minute online game with an almost same concept as Fernanfloo saw the game. Developed by InkaGames, German Saw is a point and click type of game that is adventurous in nature.
The game describes a little Doggy called Mimi running away from monster Pigsaw. The agenda is to save itself from the Pig saw. In this game, you can play as the doggy trying to save itself or an independent player known as German trying to save the doggy from the pig saw.
You will be faced with many challenges as you advance through the stages. The stages here are known as the beginner level, middle level, and advanced level. Each level presents a new form of challenges and more advanced tools to help the player.
How To Play
Game comes loaded with instructions/ guide rules that will help the player in fighting the monster. These are;
Rules To walk where you click on any part of the floor.
Rules To interact with persons, where you are required to click on the person and choose from the objects the action you want to do e.g. mouth for talking, tasting, hand to grab, punch etc.
It comes with options To trigger actions where you can drag any object of inventory to your desired location and finally it enables you to End dialog.
That is if the person you are talking to isn't giving you directions or any help towards your mission, you have the ability to mute him/her as you move on.

The levels drastically advance from dealing with chicken, goats, rabbit, spiders, zombies, giant dogs, etc. the Weapons to use also advance as you progress. Usually, the last few levels are the best such as Happy Wheels scene. The weapons for destruction at this level are more advance and you can use the grenade, full Apache kit as well as exe to destroy the monster.
All you need in this particular game is creative mind and ability to think fast before the monster catches up with you. If the monster eats you, you have to start afresh from level one.
What is key here is knowing what action to take, where? This thought should be at the speed of lightning before the animal strikes.
The main theme is to Help German save his little doggy Mimi from Pig saw or save yourself from the pig saw. Can you do that? Good luck and have fun.
Statistics
4,413 views
Video Walkthrough German Saw Game
42 Votes, average: 4.36/5