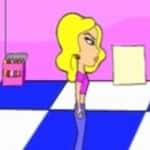 The Taylor Swift Saw Game is a very interesting and fascinating adventure. The game has a lot of difficult missions. You have to think hard before you are able to find a solution. Some of the missions are so difficult that you may complete them only by trying all possible solutions. In an exciting game has a scary atmosphere by matching music and graphics.bThe Taylor is suitable for people of any age
The evil pigsaw has kidnapped two kittens Meredith and Olivia owned by Taylor Swift. Help them right now!
The main character
Taylor Swift is a singer, who lives in a house with two little kittens Meredith and Olivia. Once, Taylor gets a present box form of which a gas escapes that sedates her. She wakes up and understands that she got kidnapped as well.
The picture of the evil pigsaw tells Taylor that he has kidnapped her little kittens and she has to save them. Now she has to play a pigsaw game to help herself and her kittens to escape.
Other Characters
There is just one friendly character in the Taylor Swift Saw Game. The name of this character is Rossana Garcia Lucena. The girl came from Mexico and she asks Taylor to find her little cat, named Leo, who climbed on a tree and cannot get down. Rossana can help Taylor as well.
The list of the evil heroes is much bigger than the list of the friendly ones. All these characters want to kill Taylor or make her incapable of completing the mission. Below you can see the list of villains:
Capitan Hook (a crocodile can help you to win versus the Capitan);
Malefic's crow (feed it with poisoned corn);
Jafar (wear the mask);
The lion Scar (should put the portable hole on the place where it jumps);
An elderly woman of dubious reputation (turn louder the music in the headphone of the parrot and compensate the apple's poison, which the woman gives).
How to play the game
The controlling of the Taylor Swift Saw Game is the easiest thing of the game. You are able to pick up objects, put them to new places and craft new objects by combining two items you picked up during the game. Click on any free space on the ground to let Taylor walk there.
How to interact with other characters:
Click on the mouth of the character to start a conversation;
Click on the eye of the character to see its description;
Click on the arm of the character to start an interaction.
You can finish the conversation just by clicking escape. If you want to let the conversation go faster, then click on any place of the screen.
Statistics
1,022 views
Video Walkthrough Taylor Swift Saw Game