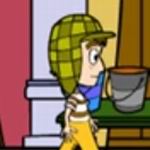 If you like adventure games then play the Chavo Saw Game. The game has easy graphics and controlling and incredibly difficult missions. The Chavo Saw Game is suitable for people of any age and sex, so even a child could play it. The game is more interesting for young people because the main character of the game is a boy. You will have to solve many hard puzzles and enjoy completing missions.
Start the game and help Chavo right now!
The main character
A boy, named Chavo, wants to buy a giant Sandwich which costs 30 pesos but he doesn't have so much money. So decides that has to start an own business – to sell beverages. He plans that his drinks are going to be available in 3 different flavors: lemon, Jamaica, and Tamarindo.
Other Characters
Normally the game has the same amount of evil characters as of friendly, but not in the Chavo. There most of the characters are friendly. You can see the list of most of the friendly characters below:
Gonzalo Rosano (a boy from Argentina, who has won a Christmas contest);
The Red Grasshopper;
Mr. Prudencio (a man, who sells desserts);
Quico;
Paty;
Popis(a girl, who lost her doll);
Chilindrina (a girl, who lost her dog);
Chapparon;
A witch (Chavo's neighbor);
Botija;
Chompiras;
Mr. Ramon.
The Chavo Saw game has only one evil character, which is actually not that dangerous. The name of this character is Evil doggy. Chavo is meant to feed him a pill that will shrink him.
The end of the Game
Chavo's business is going well and he earned enough money to buy a giant sandwich. As soon he bought it, a hungry little boy appeared and Chavo wanted to share the sandwich but the little boy ate it alone.
Chavo was hungry but neighbor invited him to dinner. He came to the conclusion that it feels better to give someone something that is important to oneself, instead of giving something that one owns plenty of.
How to play the game
You can pick up objects and put them to new places. You are able to craft new objects by combining, for example, two items you picked up during the game. Click on the free space on the ground to let Chavo walk there.
How to interact with other characters:
Click on the mouth of the character to start a conversation;
Click on the eye of the character to see its description;
Click on the arm of the character to start an interaction.
If you want to finish the conversation – click escape if you want the conversation to go faster simply – click on any place of the screen.
Statistics
8,107 views
Video Walkthrough Chavo Saw Game