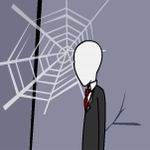 This game about very known a horror character about which we know from different sources. Imagine very tall, a long man of whom there is even no person. Yes, yes, correct, it is Slenderman. But he will not play a role of the hero of the horror film in this game and to scare away defenseless small fry. The task number one for a slendermen it to be selected from the abandoned mysterious amusement park. It will be to make for him very and very difficult. He will trap continually. Objects on locations will be very secludedly hidden. And tasks will be many times heavier.
How to play
Control is reproduced by means of a keyboard mouse. There is an opportunity to collect objects in a single whole for overcoming barriers. By means of a mouse, it is possible to collect and move objects on a location and also to click the arrows setting the direction of movement of the main character.
Advantages of a game
Interesting figures and graphics;
The worked subject line;
There is an opportunity to collect objects in parts;
Fascinating locations which will leave nobody indifferent;
Difficult logical tasks and set of riddles;
Suitable for any age;
Absence of scenes of cruelty and violence;
An opportunity to set up a graphics online of a game;
Kraft's possibility of different objects;
Bypass of traps by means of collected objects.
Disadvantages of a game
Hangup of a game;
Origin of a problem with start;
Some textures are badly drawn.
Tips for new players
Some objects can be combined with each other for making of any action;
On the game screen red shooters who specify the direction of movement of the hero settle down;
Also on the game screen, there are objects which can be selected.
Additional information
It is the first game from "Inkagames" in which other stylistics were used;
The character the smiling dog plays a role of a computer virus in our game. A dog having penetrated into a brain of our main character forces his to make actions which do not submit to logic;
For complete playing the game the main character shall collect 8 pages;
About this game there was mentioning in the previous part: "Cody Saw Game";
The main character is the most important among Creepy pasta people;
Everything who is included into society Creepy pasta these are Slenderman's enemies;
The phrase is written on each of 8 pages;
List of phrases: Help me; Can't run; Follows; Don't look or it takes you; No no no no no no; Leave me alone; Always watches no eyes; (Slenderman and a girl).
Statistics
6,894 views