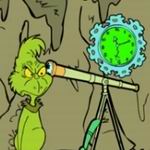 The Grinch Saw Game is the perfect Christmas game. She spreads holiday atmosphere and makes the players feel happier. The Grinch Saw is an adventure-style game, which has many cool and hard missions, interesting characters and nice graphics. The fun pastime is suitable for people of any age and sex, so even a little child could play it unless he cannot read yet.
The controlling is very easy, that allows the players to focus fully on completing the missions. The music and graphic are very Christmas styled, what makes the game more fascinating and interesting. Start to play the Grinch Saw Game right now!
The main character
The main character is a green colored creature, which is named Grinch. The creature wants to destroy the Christmas atmosphere and feelings for everyone else. The Grinch wants to see other characters unhappy and tries to steal their gifts.
Other characters
The Grinch meets many different characters and most of them are friendly. All amiable personage have only good intentions and they need Grinch's help. You can see the list of amicable heroes.
John Andre Coavoy Cacasire (a boy from Peru, who won an Imitation Town contest);
Friend (a boy, who fears to lose a pet beauty contest);
A Who with a very small car (a man, who lost his package, which he ordered on EBay);
Martha May (A girl, who is admired by the Grinch);
Manager of the post office (a man who controls that no one comes to the post office);
A cheerful who (a girl who is waiting for holidays).
he list of evil characters is much smaller. Those characters intend to kill the Grinch, but it is not so hard to deal with them. Below, you can see the list of evil characters:
Mayor;
Evil goat;
Evil pigsaw
How to play the game
The controlling of the Grinch Saw Game is very easy so that even a child could play it. Your character can:
Walk (click on the free space on the ground);
Pick up objects (just click on the object);
Craft new objects (click on every object which you want to merge together from your inventory);
Put down the object (just click on the object and then on the place, where you want to put it)
How to interact with other characters:
Click on the mouth of the character to start a conversation;
Click on the eye of the character to see its description;
Click on the arm of the character to start an interaction.
If you want to finish the conversation click escape if you want the conversation to go faster just click on any place of the screen.
Statistics
4,362 views
Video Walkthrough Grinch Saw Game
35 Votes, average: 4.26/5