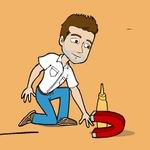 If you like the Adventure Saw games then play Vegetta Saw Game. It has interesting missions, many different characters, cool graphics and motivating happy music. The Vegetta Saw Game is absolutely worth a closer look and fascinating. The game is suitable for people of any age.
The main character
The main character is a boy named Samuel de Luque, who owns a YouTube channel. He chose Vegeta's name for himself because his favorite character in one of the games is called that name. Vegetta counts Town, German and Fernan as his best friends on YouTube. He has also a pet, named Vakypandy, which got kidnapped by pigsaw.
Other characters
Vegetta meets a lot of different characters in the game. Most of them are evil characters, but as usual, there are also some friendly characters. The friends of Vegetta want to help him complete his mission.
The list of friendly characters you can see below:
Paola Valadez Luna (a girl from Mexico, which has won a contest on the Inka Games);
Willy (a YouTuber);
Vicentel (a horse);
A Businessman.
The list of evil characters is much bigger than that one of the friendly ones:
The evil Sweeney Todd (a man, who wants to shave Vegetta's head bald);
The evil worm;
Minotaur;
Youtuber troll;
Canon;
Gangster (a man, who may kill Vegetta);
The evil Vegetta (the favorite character of Vegetta, who wants to kill him);
Clown zombie (a zombie, who wants to infect Vegetta);
A tough guy (a bald man who can kill Vegetta, if he doesn't protect himself).
Vegetta is going to play another game while he is playing the Saw Game. This game has a Minecraft style and Vegetta is able to craft any object. The mission of the game is to get a golden dragon egg, which he can use to complete the Saw Game. Vegetta is going to meet some characters in the Minecraft game as well.
Below, you can see the list of these characters:
A duck-goose;
A sheep;
An evil spider;
A zombie;
An evil Herobrine;
An evil dragon.
How to play the game
The controlling of the Vegetta Saw Game is very simple. Your character can:
Walk (click on the free space on the ground);
Pick up objects (just click on the object);
Craft new objects (click on every object which you want to merge together from your inventory);
Put down the object (just click on the object and then on the place, where you want to put it).
How to interact with other characters:
Click on the mouth of the character to start a conversation;
Click on the eye of the character to see its description;
Click on the arm of the character to start an interaction.
If you want to finish the conversation – click escape if you want the conversation to go faster simply click on any place of the screen.
Statistics
1,454 views
Video Walkthrough Vegetta Saw Game
12 Votes, average: 4.83/5