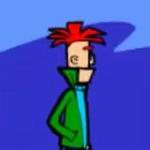 This story is about the red fellow by the name of Cody. He was kidnapped by an evil puppet. Cody came to be in the unclear building which represents a set of rooms with a set of different objects. Cody works under the cover in the confidential agency for this reason malefactors became interested in his personality.
To find a way out of the building of villains, he should strain. The bigger quantity of puzzles, riddles and tasks will meet on his way. Our red-haired guy needs help but without help, he will be difficult to handle. What do you wait? Help to be selected to our hero from a trap!
Tips for New Players
From below the panel with tools which you can use;
On the game screen red shooters who specify the direction of movement of the hero settle down;
Also on the game screen there are objects which can be selected;
Be careful, on your way will be traps which cause a loss;
Attentively examine each angle of space, exactly there can be the necessary subject;
Some objects can be combined with each other for making of any action.
Controls
The game is completely controlled the mouse cursor. You can move objects on the screen and also combine them into a single whole. In case of induction on an object, you can take action over it.
Additional information
The story about Caroline which got to the secret house was the previous version of this series. The essence of a game was the same, she shall be selected from the secret house at any cost, overcoming different traps and solving puzzles. In a next after "Cody Saw Game" Town is taken, prisoner. The feature of this version is that there is a sending to «Slenderman Saw Game».
Advantages of a game
Convenient gameplay;
Good and saturated graphics for flash genre;
Good interface;
Set of interesting challenges;
Heroes from movies and media of the personality are added;
Kraft's possibility of different objects;
Bypass of traps by means of collected objects.
Disadvantages of a game
Some problems with textures;
Hangup of a game, when opening a set of windows (if the user plays the version in online);
In some locations, objects merge (poor visibility).
About a game genre
Passing is made in the quest a genre, is suitable for people of all age. Similar games include logical tasks in case of which decision, the user can pass in the following location. Purpose to be selected from all rooms.
Statistics
920 views
Video Walkthrough Cody Saw Game