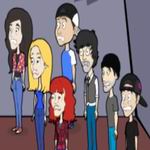 Before us very interesting and colorful game. Heroes of this game are people who carry the YouTube channels. Our history begins with the fact that a devil Pigsaw kidnaps our main characters: Lyna, Moonkase, Lili Cross, ManoloTEVE, Town, Rovi23 and German
Heroes will meet difficulties throughout a game. Sometimes will fight against a devil passing through quest which he prepared for them. Our media persons will have a set of difficulties with which they will cope. They will solve the most non-standard riddles and puzzles. Download this game rather! Or…Do you want that your favorite heroes of YouTube remained in a trap forever?!
Tips for New Players
From below the panel with tools which you can use;
On the game screen red shooters who specify the direction of movement of the hero settle down;
Also on the game screen there are objects which can be selected;
Be careful, on your way will be traps which cause a loss;
Attentively examine each angle of space, exactly there can be the necessary subject;
Some objects can be combined with each other for making of any action.
Controls
The game is completely controlled by the mouse cursor. You can move objects on the screen and also combine them into a single whole. In case of induction on an object, you can take action over it.
Additional information
The Inkagames company develops a new part of a with new heroes of YouTube. For the first time participates in such game Harlie Queen without the principal villain Joker. The next version of this series will be a very unusual hero. That person who is known in America by all. A game will be about the U.S. President and called Trump Saw Game. But the most important that he will play a role, not of the good character, but one of the principal anti-heroes. The trailer of this game is available on open access since July 29th 2017, you can look at it on the official site of Inkagames.
Advantages of a game
Good interface;
Easy of use;
Easy and intuitive to any user control the hero;
Set of interesting challenges;
Kraft's possibility of different objects;
Bypass of traps by means of collected objects;
Difficult logical tasks and set of riddles;
Suitable for any age.
Disadvantages of a game
Problem with drawing textures;
Hangup of a game, when opening a set of windows.
About a game genre
The game is made in the quest a genre, is suitable for people of all age. Similar games include logical tasks in case of which decision, the user can pass in the following location. Game purpose to be selected from all rooms.
Statistics
1,698 views
Video Walkthrough Youtubers Saw Game 2
16 Votes, average: 4.63/5