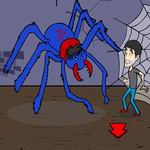 If you like to have fun and being scared at the same time then start playing Town Saw Game! You will have to think a lot and solve puzzles to help the main character escaping the horror puppet's game.
Town Saw Game is a video game with a simple playing style and easy controlling. You do not need to use the keyboard, only your mouse. Even small kids are able to play it. The main character can walk, grab, craft new objects and interact with other characters.
People of any age except small children can play this game because there are a lot of frightening moments. It is interesting for children as well as for adults because you are often in situations, where you need to think much and try different tactics before you find the right solution.
The Main Character
The main character of the game is a boy, who films and uploads gameplays on his YouTube channel. He is known by the YouTube name – "ITownGamePlay" or "Town", which is the short version of his YouTube name.
In the start of the game, you will find out, that the favorite super-hero of the main character is Spiderman and that Town's best friend on YouTube is the Mexican boy – "Alkapone".
Other characters
Town is going to meet some different characters while completing the mission. Some of them are offering side quests and some try to kill Town.
Characters, who may offer side quests:
•    Marco Antonio Cervera;
•    Scott Cawthon.
Characters, who will try to kill Town:
•    Giant spider (do not touch the net of the spider);
•    Chica (do not enter the room);
•    The Purpure Guy (do not cross the line).
You should find out how to avoid evil characters by using tools and items you picked up during the game, further you should help the friendly characters. Some of the evil characters may scare you when you do not expect it.
How to Play
You can pick up an object from the ground or wall and put them in any place as well. You are able to create new objects by combining, for example, two things you picked up during the game. Click on free space on the ground to let Town walk there.
How to interact with other characters:
•    Click on the mouth of the character to start a conversation;
•    Click on the eye of the character to see a description;
•    Click on the arm of the character to start an interaction.
If you want to finish the conversation just click escape, if you want to skip the conversation, just click on any place of the screen.
Statistics
8,339 views
Video Walkthrough Town Saw Game